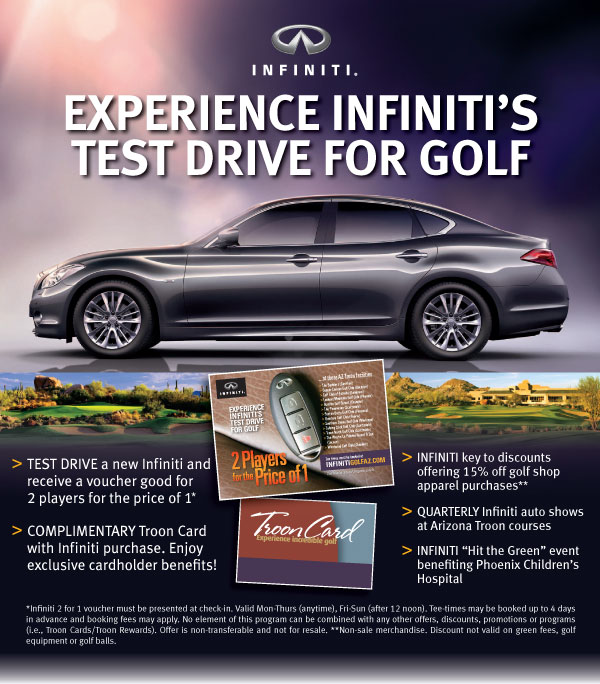 How Would You and a Friend Like to Play at a First-Class Troon Golf Course at Half the Cost?
Test drive any new Infiniti from Infiniti on Camelback and receive a voucher good for two players for the price of one* at any Troon Golf course! That means you and a friend can enjoy playing on world-class golf courses across Arizona at a fraction of the cost. Simply visit Infiniti on Camelback, take a test drive and we'll give you the voucher ? it's that simple.
As an added bonus, if you choose to purchase a new Infiniti from Infiniti on Camelback, you'll also receive a complimentary Troon Card, which allows you to take up to 50% off standard course rates for one full year! You'll also save 10% or more at participating golf shops and restaurants ? that's real savings! Become an exclusive Troon Card holder by purchasing your next new car or SUV from Infiniti on Camelback.
*Infiniti 2 for 1 voucher must be presented at check-in. Valid Mon-Thurs (anytime), Fri-Sun (after 12 noon). Tee times may be booked up to 4 days in advance and booking fees may apply. No element of this program can be combined with any other offers, discounts, promotions or programs (i.e. Troon Cards/Troon Rewards). Offer is non-transferable and not for resale.